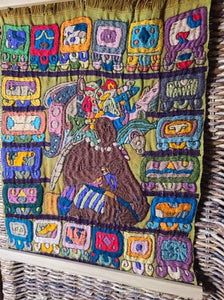 KINICH AJAW MAYAN GOD WALL HANGING
This beautiful wall hanging is accompanied by a teak wood floating frame.
This wall hanging is of Kinich Ajaw, the Mayan god.
15"W BY 17"L
In the Quiche Maya tradition, Kichigonai is the creator of day and the god of light. The sun god known as `Face of the Sun' and sometimes referred to as Kinich Ajaw. He was a god of healing and medicine.